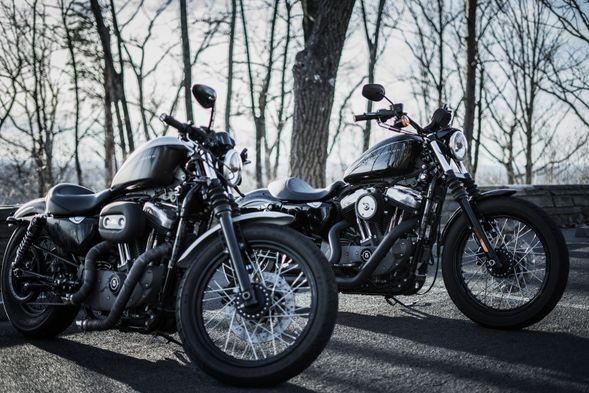 Top 7 Remarkable Reasons to Buy a Motorcycle on Lease
Simple pleasures in life like riding a motorbike and feeling the wind in your hair with unobstructed views are a luxury for some people. Going on a long bike ride with a friend or significant other is a memorable experience.
Fortunately, now you can buy a motorcycle on lease through Horsepower Financial Services without having to worry about getting a loan or searching for other financing options.
We'll help you fulfill your desire to own a motorcycle but first, let's understand what's a lease, in case you don't know the concept and the top 7 reasons to opt for motorcycle leasing.
Defining Lease
Simply put, a lease is a contract through which one party lends an asset to another party for a longer time. A lease can last anywhere between 12 to 18 months. However, with Horsepower Financial Leasing, you can get a motorcycle leasing for up to 36 months! Now isn't that just great?
We know the obstacles in owning a motorcycle like Harley Davidson, but we're here to make your dreams come true. If you're still confused, here are remarkable reasons to benefit from motorcycle leasing and live the life you want:
1. Nominal Monthly Payments
One of the biggest hurdles in buying a motorcycle through financing or other loan options is hefty monthly payments and strict payment terms. If you buy it through a loan, a large sum of money is involved, along with interest payments.
On the other hand, motorcycle leasing is a viable option because the monthly payments during the lease period are minimal. The amount you pay is based on the vehicle's depreciation over the period you lease the vehicle.
You can save significant bucks over time which you can use to buy the bike or upgrade to a newer model. Horsepower Financial Leasing offers favorable motorcycle leasing options.
2. Minimal Repair Costs
Another reason to opt for motorcycle leasing is the lower repair costs that you will incur during the time period. Most lessors bear the major portion of maintenance and repairs. However, there may be a very limited liability at your end to maintain the vehicle and minimal repair costs to fulfill during the lease period. The few touchups you may make or may be responsible for will be quite affordable and worth owning the bike for the lease duration.
3. Lesser Ownership Responsibility
Once you own a Harley Davidson through motorcycle leasing, there is no hassle of selling the bike for a new one or returning it in case of default, as is the case in loans. You can use the motorbike carefree and without any hassle for the lease period. At the end of your lease period, you can choose to purchase it or give it back, no questions asked!
Certain lease agreements may contain a balloon payment at the end of the term; however, with Horsepower Financial Leasing, that's not the case. Our lease payment process is smooth and transparent, and we don't hold you accountable for anything other than the agreed lease terms of payment.
4. Access to Luxurious Motorbikes
Luxurious motorbikes like the Harley Davidson are a far-fetched dream for most people. However, with motorcycle leasing from Horsepower Financial Leasing, you can choose the motorbike of your dreams and live the luxurious life on the road you always dreamt of!
You can ride a high-end bike even if your bank account doesn't allow owning one permanently. For a nominal payment, you can get the same experience. Choose from a variety of bike makes and models to find the most suitable option for you. We have a large inventory of bikes you can conveniently choose a vehicle from.
5. Enjoy Unlimited Miles
Owning a motorbike requires a substantial investment, and most lease agreements contain a penalty if you ride over the miles specified. But, with Horsepower Lifestyle Lease, you can ride your bike as much as you want and wherever you want.
We give you unlimited miles so you can have the experience of a lifetime you always dreamt of having. Planning a road trip all over the US or going to another state? Our leasing options come without any mile restrictions. So, what are you waiting for? Get your motorcycle leasing and those leather boots, and plan the road trip of a lifetime!
6. Option to Purchase the Motorbike
Once your lease ends, you can decide to purchase the vehicle, renew your lease or even return it if you want. There is no permanent responsibility on your shoulders for owning a motorbike. You can enjoy it as much as you want during the lease period and only pay for the time and value for which you have used the bike.
If you happen to fall in love with the current model during the lease, you can decide to buy it. If you want to experience a newer model, you can easily exchange it once your lease ends. We know it can be quite a thrill to ride a Harley, and once you do it, the thirst for riding newer models persists.
7. Flexible Lease Terms
Motorcycle leasing through Horsepower Financial Leasing offers flexible lease terms that are suitable for most motorbike enthusiasts and road adventure seekers. Unlike a loan, there is no sword hanging over your head to make exorbitant interest payments or the fear of losing your bike if things go downhill.
We have flexible lease payment options for riding enthusiasts because we understand what it means to live the Harley lifestyle. You're not burdened with hidden clauses or rigid payment terms. Through Horsepower Financial Services, you can experience the thrill of riding a bike by choosing flexible lease terms and low monthly payments that are manageable.
Things to Consider Before Considering Motorcycle leasing
Motorcycle leasing offers a lot of perks; however, it's not everyone's cup of tea. Before you choose a dealership to lease a motorcycle, you should be aware of what you are signing up for. Like any other financial agreement, you must know the lease terms and conditions. In case of confusion, we always encourage our clients to clear their doubts.
You can also enquire around from friends and family regarding motorcycle leasing and encourage them to share their experiences. This way, you can be well-informed regarding the leasing options, the general terms to expect, and how the overall process works.
Overall, leasing a motorbike is a cost-effective way to live your dream of riding luxurious bikes. There are no strings attached, and you can enjoy the model of your choice for as long as you like without a permanent commitment.
Leasing doesn't put a dent in your wallet or bank account, and at the end of your lease, you can decide whether to purchase the bike, return it or upgrade it. If you are choosing your motorcycle lease from Horsepower Financial Services, we let you customize the bike as much as you want. Now, isn't that a great deal?
APPLY NOW